The type of sprinkler is introduced
The sprinklers we see on a daily basis are generally converted from cars. Well, if you choose to use a different vehicle chassis, we can divide the sprinkler truck into two types, a large sprinkler and a light sprinkler. Below, we will introduce in detail the advantages and disadvantages of different types of sprinklers to facilitate the specific understanding.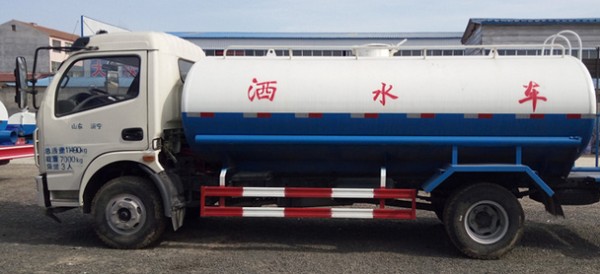 First introduced large-scale sprinkler, sprinkler is the result of a large truck to transform the underbody, usually large trucks. This type of sprinkler is characterized by a large amount of water, long time for watering, and quick work. It can be mainly applied to large-scale watering operations, such as the roadside of a square mall with a large traffic flow. Then introduced the light sprinkler, this light sprinkler is characterized by good mobility, the vehicle area is small, the water volume is relatively small, mainly suitable for use in some areas where the road is not wide, such as the downtown area, park roads, streets Alleys and other places related to sprinkler operations.
Then, depending on the sprinkler location of the sprinkler, we can divide the sprinkler into three types: sprinkling water at the front, sprinkling water at the rear, and sprinkling water at the front of the vehicle. Each of the three types of vehicles has different advantages and disadvantages. First, the sprinkler that sprinkles water frontally and the driver of the vehicle can adjust the sprinkling condition of the vehicle at any time. However, after water is sprinkled, the road surface is prone to water accumulation and wetness, which reduces the parking performance of the sprinkler. Sprinklers sprinkling the water behind the vehicle, the driver can not understand the current watering situation, can only use the relevant signal device to understand the watering situation, so as to be adjusted and controlled accordingly. The sprinkler on the rear of the sprinkler has no effect on the parking function of the sprinkler. Sprinklers that sprinkle water at the front of the car at the same time have obvious advantages. When performing sprinkler operations, the road on both sides of the vehicle and the road surface within the width of the vehicle can be sprayed. This type of sprinkler has high watering efficiency, wide watering, and good effect.
Then sprinklers can be divided into these different categories. When we are performing sprinkler operations, we should choose according to our different needs.
Towable Tube,Inflatable Towable Tube,Towable Boat,Water Ski Sports
P&D Plastic Manufacture Co., Ltd , https://www.jminflatablepool.com