Holset® e power: no best, only better
Are you also in the commercial vehicle market?
Are you also looking for a more perfect turbocharger?
Recently, Wuxi Cummins Turbo Technology Co., Ltd. has released a supercharged turbocharger: the Holset ® e. It captures the advantages of current pneumatic bypass valve booster technology and variable nozzle booster technology in terms of performance and reliability, and provides engine manufacturers with cost-effective booster solutions.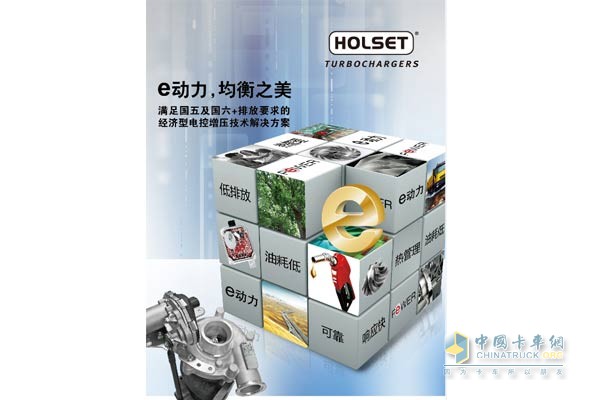 Holset ® e power provides engine manufacturers with cost-effective booster solutions
The performance of HOLSET® e is excellent in terms of performance and reliability. How comprehensive is its product performance?
Holset ® e power effectively reduces fuel consumption and emissions;
Realize the closed-loop control of the intake air volume of the engine to better meet the increasingly stringent product consistency requirements;
Compared with the variable nozzle booster, the moving parts under the high temperature and high pressure gas are reduced, and the reliability is higher;
The rapid electronic control response combined with the newly developed high-efficiency compressor and turbine, Holset ® e power reduces the intake lag and improves the engine transient response under conditions of engine changing conditions, and has a vast application space.
In the domestic light commercial vehicle market, e power performance is comprehensive. Specific performance comparison see the following table: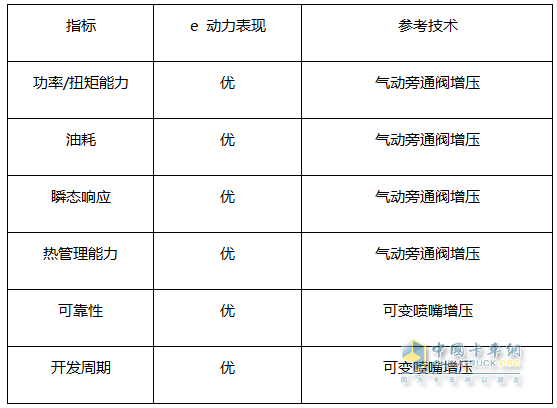 As the world's first commercial electronically controlled by-pass valve turbocharger technology for commercial vehicles, where is the innovation of the Holset® e power?
1. Active electronically controlled regulating bypass valve
Holset ® e power, compared to the traditional pneumatic bypass valve booster, changes the bypass valve opening mode from passive gas actuation to active electronically controlled regulation control. After receiving the electric signal transmitted by the ECU, the motor inside the electronically controlled regulator rotates, and then drives the linkage mechanism to push the bypass valve to open, and actively controls the turbocharger turbine to perform the function and achieves a certain amount of intake air. Free adjustment within the range to meet the engine's different speed and torque demand for air intake.


Holset ® e power meets the engine's need for air intake at different speeds and torques
2. High torque motor improves reliability
Holset ® e-powered electronically controlled regulators use high-torque motors to effectively avoid the impact of the exhaust valve on the bypass valve system and electronically controlled actuators under harsh operating conditions. The electronically controlled regulator passed 70 million bypass valve opening and closing tests as well as various other harsh tests.
3. Compressors and turbines have a wider flow range and higher efficiency
The newly developed compressors and turbines have a wider range of compressor flow rates and higher turbine efficiencies, which can better meet the user's requirements for large engine torque and high power, reduce the intake lag in variable conditions, and improve transient response. , while reducing fuel consumption.
For more than 60 years, the Holset brand has continued to provide superior turbocharging and aerodynamic technology through its dedication to improving engine efficiency, enhancing reliability, and reducing emissions.
In China, Wuxi Cummins Turbo Technology Co., Ltd. fully understands the working requirements of commercial vehicles and construction machinery and ensures that the products meet the special needs of customers. The company has become Futian Cummins, Qingling, Jianghuai, Jiangling, Guangxi Yuchai, FAW Xichai, Deutz FAW Diesel, Dongfeng Cummins, CNHTC, Weichai, etc. with strong technical and engineering capabilities, rapid response capabilities and excellent customer support. Pressurized technical partners of Valin, Chongqing Cummins, Sany Heavy Industry, Fiat Red Rock, Xi'an Cummins, Dongfeng Commercial Vehicles and other engine manufacturers; also by Hino, Volvo, Scania, Iveco, Daimler, Detroit, Komatsu Cummins, Doosan, Hyundai and other international brand engine manufacturers approved as suppliers.
Truck Mounted Crane is also called crane truck,boom truck, lorry Truck Crane, we offer a wide variety of truck mounted cranes for sale, we have telescopic boom truck cranes and folding boom truck cranes for sale, the crane brand could option XCMG,Sany, Unic, alfinger, and Hyva. and these brands of cranes could be mounted on the following chassis: Isuzu, Dongfeng, Sinotruk, Foton, FAW, JAC, BEIBEN...
Our boom truck lifting capacity available from 2 ton to 16 tons,we offer the best truck mounted crane price for clients , also provide one year warranty.
Truck Mounted Crane
Truck Mounted Crane,Truck Crane,Truck Loader Crane,Truck Loading Crane
Hubei Jiangnan Special Automobile Co., Ltd , https://www.cn-firetrucks.com