Handbag Leather Sewing Machine Automatic Sewing Machine
Applicable Material:
Rubber, Knitted Fabric, Leather
Outline Dimension:
1200*867*1230mm
Sititching Style:
Single Needle Lockstitch
Transport Package:
Standard Sea Worthy Cartoon Packing
Specification:
1200*867*1230mm,
Handbag leather sewing machine automatic sewing machine H1510
Mlk-H1510RÂ  Specification
 
| | |
| --- | --- |
| Item | MLK-H1510R |
| Stitching type | single needle lockstitch |
| Hook type | shuttle hook |
| Sewing area | 150*100mm |
| Maximum sewing speed | 2800 stitches/pattern |
| Feed method | Intermittent/Continuous(switch over mehod) |
| Stitching pitch | 0.1mm-12.7mm(resolution 0.1mm) |
| Maximum no.of stitches | 20000 stitches/pattern |
| Maximum no.of stored patterns | 999 patterns(control panel internal memory) |
| Enlargement/reduction function | 10 to 200% for both X and Y axis(variable in 0.1% steps) |
| Memory mdium | SD/USB flash memory(not included with sewing machine)(USB-connected FDD can also be connected) |
| Total weight | 133kg |
| Clamp holder method | 38mm |
| Work holder method | Pneumatic |
| Chuck device | special specification |
| Presser foot lift stroks | 3-15mm two level adjustment |
| Presser foot stroks | 3-15mm |
| Spindle motor | MINGLING electric 750w direct servo motor |
| Applicable needle | Dpx17#18(standard) |
| Operation panel | 5.7'' LCD touch panel,white LED backlight |
| Outline dimension | 1200*867*1230mm(excluded thread stand) |
| Power supply | 220-240V,single-phase 110-120V,                      380-415(option unit required) |
Sewing speed wil be affected by the operation,material and fixture weight factors due to different.
H FLAGSHIP SERIES-TO LEAD THE INDUSTRY NEW SPECIFICATIONS
1.HIGH SPEED SEWING:2800 STITCHES/MIN
   HIGH SEWING SPEED/INCREASE PRODUCTIVITY
2.POWER FULL PENETRATION FORCE(18 layer fabric penetration test)
3.SEWING QUALITY IMPROVED WITH NEW CONTROL METHOD
Prevention of skipped stitches and thread breakage Even when sititching material thickness changes is required using the programmable presser foot height adjustment function.
4.BARCODE SCANNING RECOGNITION FUNCTION
Through the unique indentification code to automatically read the pattern data for sewing,intelligent operation,reduce the procedd,improve efficiency and reduce human error.
5.MULTI USER PRIVILEGE CONTROL
The system set up three levels of authority,multi-user rights management production,to facilitate enterprise control production management and equipment management,enhance enterprise data confidentiality.
6.FULL RANGE OF IMPORTED RAIL BEARING BRODEN BELT AND SENSOR
A full range of machines imported from Japan THK precision ball guide,NSK bearings,Germany opti belt transmission,japanese sensor high precision,high stability,high service life.
7.USB MEMORY&HIGH-SPEED PROCESSING
Quicker processing of pattern data with high stitch count pattern creation time minimized up to one-tenth
work efficiency increased by 3 to 10-fold(compared with MLK-G serise)
8.POWER CONSUMPTION REDUCED IN CONSIDERATION OF ENVIRONMENT
Direct-drive method reduces power consumption by approximately 40%(compared with MLK-G series)
9.AUTOMATION SUPPORT FUNCTIONS
Easy expand ability for customization and automation superior cpmpatility with host control units(Mingling operation programable controller)
10.MUTL-AUXILIARY ADDITIONAL FUNCTION UNIT
1.Electronic clip function unit(Optional)
2.Disconnection detection function unit(Optional)
3.Facial thread automatic clamping function unit(Optional)
4.Secondary threading function unit(Optional)
5.Power cat data acquisition interactive function unit(Optional)
To meet the needs of different enterprises production

ADVANTAGE
1)High Sewing Speed-2800 stitches/min
Feedback for the XY mechanism is incorporated to realize high-speed intermittent feed sewing stitches distance can be 3.0mm(intermittent feeding).Machine time has been reduced by 10% compared to conventional models.
2)Beautiful Stitches
The improved presser foot mechanism and feed mechanism rigidity together with the latest feed control(feedback control)realize beautiful stitches,from low to high speeds,in all areas including corners which follow the sewing data and stitch linearity.
3)Industry's Top-class Penetration Force
The increased power of the 750W direct-drive servo motor provides the industry top-class penetration force.Low-speed sewing(200rpm)at the start of sewing and thread cutting,which was conventionally difficult to carry out,can now be performed with ease.
4)Power Consumption Reduced
The direct-drive method helps to reduce the power consuption during sewing by approximately 40%.Power consumption while waiting is also reduced by approximately 50% by incorporation and XY drive feedback control method.This electronic sewing machine boasts the market's lowest power consumption in the industrial sewing machine catalogue.
5)Improved Work Effiiciency
Adoption of a USB memory and high-speed processing system has greatly shortened the time required and correct data for patterns with many stitches.The inching key greatly improves the speed during clamping movement,and improves work efficiency.
6)Programmable pressure foot height control
A programmable presser foot height function is incorporated.Skipped stitches and thread breakage can be prevented by changing the presser foot height according to the material thickness.The programmed presser foot data is saved in the sewing data,so the presser foot height does not need to be adjusted even if the material thickness changes.
7)Large,High-visibity,Easy-to-use LCD Touch-type Operation Panel
In addition to the basic sewing machine operations,this panel can be used to process patterns,confirm the status of the various sensor input/output ports.
Frequently used switching patterns can be selected quickly with the shortcut button.
When inputting patterns,the clamp frame movement speed can be selected from three different settings.
An easy-to carry and use shape has been adopted.
Comliant with misubishi and brother interface of pattern design pane,data saving and reading format,which make it normal and more suitable for using.
8)Factory Automation
Various functions to connect to a production factory's network and support production control.including popular pattern delection using barcode reader,are incorporated.Compatibility with Mingling programable controllers is outstanding.
9)A wide range of sewing
Whether small material or large material,can realize high precision sewing.Through a wide range of sewing,users can more easily in the settings to materials in the confirmation,so as to obtain high quality line sewing effect.


OPTIONAL PARTS:Powerful Automation Support Functions
1.MLK-H Sewing data creation software
Stitching data can be created easily using a personal computer,CAD data can also be read,which make designing and writing more convenient.

2.MLK-H SET Sewing machine parameter setting software
On a personal computer for a comprehensive set of all paramters,is more convenient than the set in the touch operation panel.

3.MLK-H STEP PS300 Sewing machine programming software
You can write the sewing machine and external connected device program.

Matching device
(1)Pneumatic two-stage-tensioner
(2)Upper-thread breakage detector
(3)Two-step left-right alternating clamp
(4)Face clamp function
(6)Electronic clip function
(7)Multi-function automatic fixture device
(8)Up and down axis with software transmission system,without using gear,but use imported belt from germany to enable higher accuracy on transmission and less noise.
(9)Overall unit with japanese THK,seven pieces(single row of ball)track linkage
(10)German opti brand new belt,widened belt transmission
(11)Pneumatic clamp can be swift from left to right ramdomly
(12)Scan and indentify system
(13)Set to large capacity of memory with SD card and USB various slots
 
Part name

Type

Application

Pneumatic 
two-stage
clamp

MP-G10-AO

Suitable for materials requiring clamp holding force

Pneumatic clamp

MP-G10-K2

The left and right clamps can be lowered independently,simplifying part and label stitching

Label sewing unit

MP-G10-AH

Used to stitch the entire periphery of parts or labels

Manual type clamp

MP-G20-Â MF/MP-G25-MFÂ Â Â Â Â Â Â Â Â Â Â Â Â Â Â  Â Â Â Â Â Â Â Â 

The sewing material position can be fine-tuned manually

Pneumatic two-stage-tensioner

MP-G10-AT/MP-G20-ATÂ Â Â Â Â Â Â Â Â Â Â Â Â Â Â Â Â Â Â Â Â 

keep stable stitching when there is  any changes in the sewing direction or sewing material thickness

Upper-thread holding device

MP-G10-TH/MP-G20R-TH

Hold trimmed needle thread

Upper-thread breakage detector

MP-G10-TH/MP-G20R-TH

Surface lines break off,sewing machine will stop operation

Needle cooler

MP-G10-NC/MP-G20-NC

Needle thread breakage caused by heat is prevented by cooling the needle with air

Sewing machine head tilting auxiliary component

MP-G10-GC/MP-G20-GC

Force required to lft the sewing machine head is reduced with a gas spring

I/O expansion unit

MP-G10-TE/MP-G20-TE

The number of input/output ports which can be connected to the sewing machine are expanded(12 extra input ports,12 extra output ports)

Pneumatic two-stage-tensioner

MP-G40-AT/MP-G50-TH

keep stable stitching when there is  any changes in the sewing direction or sewing material thickness

Upper-thread breakage detector

MP-G40-TH/MP-G50-TH

Keep the lines tangent to the surface after stablity,To prevent the phenomenont of entanglement in the needles may produce

Upper-thread breakage detector

MP-G40-TS/MP-G50-TS

Surface lines break off,sewing machine will stop operaton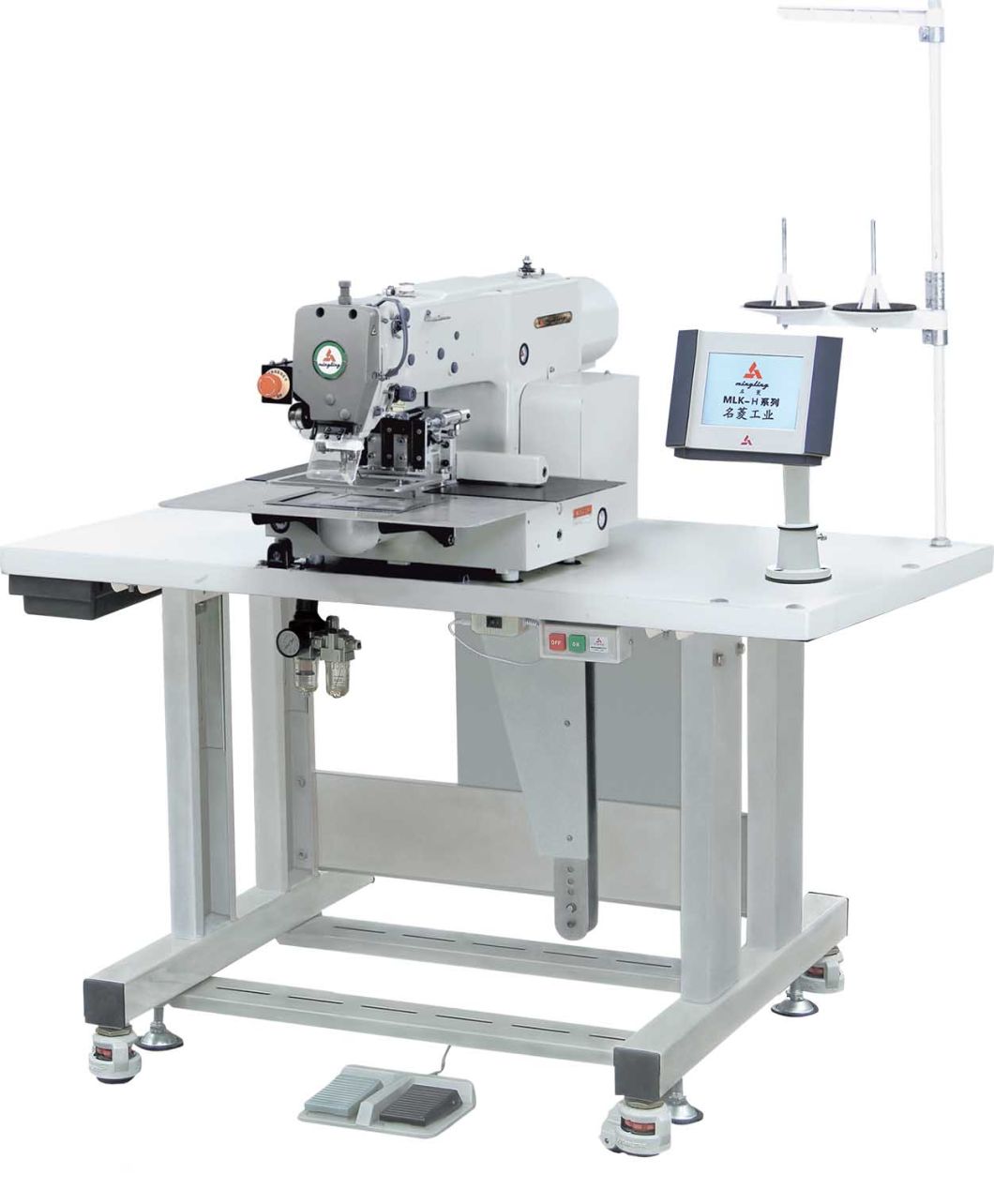 Super-power, for thick and thin plates
Equipped with high/super power laser device, efficient thick plate cutting is no longer a dream, thin plate cutting is more speedy; BODOR database of cutting process will provide you with data support of performance and energy saving to save your cutting cost. Tailor-made high power laser machine for customers, its maximum cutting range includes 50mm aluminium plate, 30mm stainless steel and 25mm carbon steel plate.
High Power Laser Cutting Machine
High Power Laser Cutting Machine,Fiber Laser Cutter,High Power Laser Cutting Machine
Jinan Bodor CNC Machine Co., Ltd. , https://www.bodorcnc.com