Destructive earthquake emergency plan for the ore dressing plant
Chapter 1 General Provisions............................................................ Chapter 2 Basic Conditions and Hazards of Earthquake Disasters.................................... Chapter III Organization and Responsibilities of Earthquake Emergency Relief.................................... Chapter 4 Earthquake Disaster Prevention and Emergency Preparedness.......................................... Chapter 5 Safe Earthquake Venue and emergency rescue communication contact.............................. Chapter 6 Earthquake Disaster Report...................................................... Chapter VII Earthquake Disaster Emergency Response Procedure... .................................... Chapter VIII Destructive Earthquake Emergency Plan Management....................................... Chapter IX Supplementary Rules.................................... .............................. Attachment Jinchuan Group Co., Ltd. Concentrator's Destructive Earthquake Emergency Rescue Flow Chart Chapter 1 General Provisions Article 1 To conscientiously implement the relevant laws and administrative regulations such as the National Safety Production Law and strengthen safety Management, actively prevent and timely deal with major sudden disasters Accidents, safeguarding the lives and property of the workers and workers, and ensuring the normal production order of the concentrator, in accordance with the requirements of the Jinchuan Group Co., Ltd. concentrating disaster emergency rescue sub-plan, according to the Jinchuan Group Co., Ltd. earthquake emergency plan, combined with the actual concentrator In the case of this plan. Article 2 Explanation of Terms (1) Destructive Earthquake: refers to an earthquake of magnitude IV (in principle, Ms ≥ 5.5 or more). (2) Unit: refers to the workshop of the mineral processing plant. (3) Department: refers to the functional department of the mineral processing plant. (4) Earthquake Rescue Site Command: Refers to the commanding organization or leading group established by the concentrator in response to the earthquake disaster. (5) Earthquake Relief Office: Refers to the functional department responsible for the development of earthquake prevention disaster emergency plan, organization plan drill, rescue coordination and disaster information collection, transmission and summary in response to the earthquake disaster. (6) Earthquake Relief Working Group: Refers to the specific anti-seismic knowledge propaganda, anti-seismic relief materials preparation, anti-seismic rescue plan drills and post-disaster rescue and production recovery, post-disaster health care and epidemic prevention The department responsible for the supply and resettlement of emergency personnel for emergency rescue. (7) Earthquake Relief Team: Refers to the team responsible for the implementation of the emergency rescue work of each workshop in response to the earthquake disaster. Article 3 This plan determines the main hazards that the earthquake disaster may cause to the concentrator, the earthquake emergency rescue organization and responsibilities of the concentrator, the earthquake disaster prevention and emergency preparedness of the concentrator, the safe suspension site of the concentrator and the emergency rescue communication, and the ore dressing The earthquake disaster report of the plant, the emergency response procedure of the earthquake disaster of the concentrator, and the management of the emergency plan. Article 4 This plan is applicable to earthquakes above the Class IV (Jinchuan Group Corporation Earthquake Disaster Emergency Response Standard). Chapter II Basic Conditions and Harm of Earthquake Disasters Article 5 Main industrial facilities of the concentrating plant and earthquake-resistant conditions Main industrial buildings of the concentrating plant: 87 industrial facilities with seismic resistance of 8 degrees and 393 buildings with seismic resistance of 7 degrees. Main equipment: 65 sets of Class A equipment and 186 sets of Class B equipment. Article 6 Main Material Reserves of Earthquake Relief for Seismic Relief In order to ensure that the concentrator can quickly carry out earthquake relief work after the earthquake disaster, the concentrator reserves the necessary seismic relief materials. (1) The concentrator can be used for earthquake-resistant rescue vehicles: 1 8-ton crane, 1 8-ton large plate, 1 5-ton forklift, and 10 passenger and cargo vehicles. (II) Major materials for seismic rescue of mineral processing plant 1. Equipment and materials: 10 submersible pumps, 5 vertical centrifugal pumps, and a material reserve (steel pipe, tarpaulin, tarpaulin, etc.) capable of building 10 tents. 2. Rescue and rescue tools: 10 emergency lights, 50 lighting torches, 400 iron shovel, 500 pairs of rain boots, and 4,200 woven bags. 3. Other reserves: storage of emergency food, medicines (including medical equipment) and unforeseen funds of 10,000 yuan each. Concentrator rescue and relief material reserves mainly by the energy department of motor preparation and intake? * Haze ridge? Br /> ** Article VII of the earthquake damage may cause harm to the beneficiation plant mainly industrial facilities destroyed, damaged production equipment, field personnel trapped Or casualties, collapse of the tailings dam body, etc. Article 8: Secondary disasters caused by earthquake disasters to the concentrator (1) Due to the earthquake, the high voltage line suddenly breaks and causes electric shock. (2) Due to the earthquake, the chlorine gas in the chemical plant caused leakage and caused chlorine poisoning. (3) Due to the earthquake, the tall buildings collapsed and caused casualties. (4) Due to the earthquake, the acid in the refinery is leaked and the acid is burnt. (5) Due to the earthquake, the dam of the tailings pond of the concentrator caused the collapse of the tailings, causing environmental pollution to the surrounding areas. (6) Due to the earthquake, it may cause fire and explosion accidents, causing casualties and property losses. Chapter III Organization and Responsibilities of Earthquake Emergency Rescue Organization Article 9 The concentrating plant shall establish an earthquake rescue on-site command headquarters to be responsible for the earthquake relief work of the concentrator under the leadership of the disaster emergency rescue headquarters of the plant. The earthquake resistance rescue office is set up under the factory headquarters, and five working groups and six earthquake relief teams are set up according to the work quality to specifically undertake the emergency rescue and disposal of earthquake disasters. Article 10 The chief commander of the earthquake relief rescue site command of the ore dressing plant: the director and the deputy chief commander of the party committee secretary: the production plant manager, the equipment manager and the labor union chairman are responsible for the unified leadership and command of the earthquake disaster emergency rescue and disposal work. Members: Production Planning Division, Safety and Environmental Protection Division, Mobile Energy Division, Scientific Research and Technology Section, Factory Office, Party Committee Work Department, Human Resources Department, Factory Trade Union and the main person in charge of each workshop. The anti-seismic rescue site command of the ore dressing plant is located in the dispatching room of the plant. The responsibilities of the earthquake relief rescue command headquarters of the eleventh concentrator (1) The anti-seismic rescue headquarters of the concentrator implements the instructions of the earthquake rescue headquarters of the group company, and is responsible for the earthquake relief within the scope of the concentrator. Work; responsible for the preparation of the earthquake emergency rescue plan for the concentrator and the inspection and implementation of the earthquake prevention measures; undertake the on-site emergency rescue organization command work of the earthquake relief, put forward the opinions and suggestions for the disposal measures, and issue the on-site rescue and rescue orders. (2) Training and organizing and disciplined education on earthquake relief knowledge and emergency measures for all employees. After the approval of the earthquake rescue headquarters of the group company, the drill of the earthquake emergency rescue plan of the concentrator was commanded. (3) According to the Lin Zhen Directive of the Earthquake Rescue Command of the Group Company, start the anti-earthquake emergency rescue procedure of the concentrator; independently implement the sudden and strong earthquake emergency protection measures, and report the situation to the group company headquarters in time to accept further instructions. (4) Immediately after the earthquake, organize personnel to rescue and rescue themselves, and actively carry out self-rescue and mutual rescue. All members of the command department should immediately inspect important production systems or positions, check the impact of the earthquake, collect disaster damage, and provide earthquake relief headquarters and earthquake resistance. The rescue office feedback information. (5) Responsible for the recovery of production and living order after the earthquake under the unified arrangement of the earthquake relief headquarters of the group company. Reward and punishment for personnel or disciplinary personnel who have achieved outstanding results in earthquake relief. Article 12: Office of the Anti-Seismic Rescue Office of the Concentrator: Director of the Office of the Production Planning Division: Deputy Director of the Safety and Environmental Protection Section: Production Dispatcher, Safety and Environmental Protection Department Safety Management Function and Environmental Management Function Personnel, Production Planning Division Production Management function staff. The anti-seismic rescue office of the ore dressing plant is located in the factory dispatching room. Article 13 Responsibilities of the Earthquake Relief Office of the Concentrator (I) The Earthquake Relief Office of the Concentrator is under the leadership of the Earthquake Rescue Site Command and under the guidance of the competent department of the Group Company, responsible for the daily management of the earthquake disaster prevention of the concentrator; The specific implementation of the plant's destructive earthquake emergency plan and emergency plan drill; responsible for the communication, coordination and command communication between the headquarters and the post-earthquake headquarters. (2) According to the imminent earthquake forecast of the earthquake rescue headquarters of the group company, the organization initiated the "Destruction Earthquake Emergency Plan for the Concentrator", provided information to the group company headquarters on the measures taken and existing problems, and put forward suggestions for emergency work. He is also responsible for the headquarters meeting and vehicle arrangement during the emergency and post-earthquake emergency period (specifically, the factory office is responsible). (C) after the earthquake quickly understand, collect, aggregate information on disaster and emergency rescue work, press the "Jinchuan Group Limited, notify the Interim Provisions of the earthquake breaking news" promptly reported to the company rescue and relief headquarters. Obey the unified command of the company's earthquake relief headquarters, coordinate and coordinate the earthquake relief work of the seismic rescue team and the earthquake relief team of the mineral processing plant. (4) Responsible for organizing the annual seismic exercise of the anti-seismic plan of the mineral processing plant. According to the nature of each earthquake rescue working group and team, combined with the actual situation of the production and operation of the mineral processing plant, according to the seismic rescue plan of each earthquake relief working group and team, staging Arrange the work of the earthquake relief work team and the team's plan. (5) In accordance with the instructions of the Earthquake Rescue Command of the Group Corporation and the Earthquake Rescue Site Command of the Plant, carefully organize and coordinate the rescue and recovery work after the disaster. Article 14 Composition and Main Responsibilities of the Anti-seismic Rescue Professional Working Group of the Concentrator (I) Comprehensive coordination of seismic rescue and relocation of the mineral processing plant, leader of the disaster rescue team: members of the production plant: production planning department, safety and environmental protection department, scientific research technology department, factory office principal. The office is located in the Production Planning Section. Comprehensive Resilience of Earthquake Relief and Disaster Relief Team Main Responsibilities 1. Focus on the formulation and exercise of the earthquake rescue plan for the earthquake rescue team of the production workshop, check and supervise the implementation of various emergency measures; bear the report on the earthquake disaster, and notify the relevant members and units to be responsible The man immediately rushed to the scene to start the plan and convey the command of the headquarters emergency rescue. 2. Coordinate the rescue and rescue work of each professional disposal team, report the progress of emergency rescue work to the company in a timely manner, implement the instructions of the factory and company leaders on accident rescue work, organize the rescue and rescue work of each workshop after the disaster, and be responsible for holding Emergency rescue site meeting. 3. After the earthquake damage occurs, organize personnel to implement the emergency rescue plan. Organize and coordinate the rescue teams of relevant units to carry out rescue and rescue work. (II) Leader of Earthquake Rescue Propaganda and Safety and Defence Team of the Concentrator: Party Secretary: Head of Party Committee Work Department and Party Branch Party Secretary, Party Committee Work Department, Factory Office, Scientific Research Department, Mobile Energy Department, Finance Department , Data Manager of the Human Resources Section. The office is located in the party committee work department. Main responsibilities of the seismic rescue propaganda and safety and security team of the concentrator: 1. Responsible for the publicity and education of the knowledge of earthquake prevention and scientific prevention and secondary disasters (chlorine, acid, high-voltage lines, tall buildings, etc.), and adopt various methods. Good publicity and education will enable the employees to master the knowledge of emergency and self-rescue and mutual rescue (for example, emergency protection knowledge such as chlorine leakage in chemical plants), and correctly guide employees to eliminate fear. 2. Strengthen organizational discipline and legal publicity and education, and require employees to obey orders and obey orders during crisis times. Responsible for the internal security work during the earthquake. 3. Responsible for formulating the emergency plan for the protection of confidential documents during the earthquake-proof period and the implementation of the measures, and carefully organize the drills for the emergency rescue plan according to the arrangement of the earthquake relief office. 4. After the earthquake damage occurs, do a good job of protecting the confidential documents during the earthquake-preventing period to ensure that the documents are complete. (III) Leader of the earthquake rescue logistics support, on-site rescue and after-treatment of the mineral processing plant: Chairman of the factory trade union: factory trade union, human resources department, mobile energy department, financial department leader, all members of the factory trade union, environmental protection management of safety and environmental protection department Member, mobile energy department supplies supply manager, chairmen of each workshop branch. The office is located in the factory union. The main duties of the earthquake relief logistics support, on-site rescue and after-treatment group of the ore dressing plant 1. Responsible for the formulation of the earthquake relief plan for medical and health care and the medical, health care and epidemic prevention work after the disaster and the supply and resettlement of the rescue life essentials for the rescue personnel after the disaster Cooperate with the superior department to do the rescue and rescue work for the wounded, carry out on-site ambulance for the casualties, handle the casualties in a timely and proper manner, and do a good job in the aftermath. 2. Engage hospital experts to give rescue personnel lectures on ambulance knowledge, organize rescue teams to conduct simple exercises such as banding and hemostasis, and be responsible for the provision of emergency rescue protective equipment. According to the arrangement of the earthquake relief office, carefully organize the drills for emergency rescue plans. 3. After receiving the earthquake prediction or earthquake, organize personnel to implement the emergency rescue plan as soon as possible, and be responsible for contacting medical rescue, drug supply, wounded escort work and responsible for disinfection and epidemic prevention of the whole plant. 4. According to the different earthquake predictions of the earthquake rescue headquarters of the group company (or after the earthquake), combined with the actual situation of our factory production, timely and reasonably necessary living material reserves; responsible for the logistics life support work of earthquake relief and rescue personnel As well as the placement of personnel. 5. Do a good job in the protection and transportation of the motor vehicles in the factory. 6. The Mobile Energy Division is responsible for organizing rescue and relief materials, facilities and equipment, and is responsible for coordinated allocation and emergency distribution. (IV) Leader of the Anti-seismic Rescue Information Release Group of the Concentrator: The director of the factory: the office of the factory office, the work department of the party committee, and the office of the person in charge of the safety and environmental protection department are located in the factory office. Main Responsibilities of the Seismic Rescue Information Release Group of the Concentrator According to the instructions of the Disaster Relief Emergency Rescue Command of the Concentrator, the information on accident emergency disposal and rescue and rescue is released. (5) Leader of the anti-seismic rescue expert technology and accident investigation (coordination) of the mineral processing plant: members of the equipment factory: the safety and environmental protection department, the mobile energy department, the scientific research and technology department, the factory office, and the office of the party committee Environmental Protection Division. Main responsibilities of the anti-seismic rescue expert technology and accident investigation (coordination) group of the concentrator 1. The safety and environmental protection department is mainly responsible for the site investigation and evidence collection with the relevant departments, and cooperate with the superior investigation team to carry out the investigation and handling of the post-disaster accident. 2. The scientific research and technical department is responsible for the organization, and relevant engineering and technical experts are organized to provide technical support and decision-making suggestions for rescue and accident investigation. Article 15 Composition of Earthquake Relief Team of Concentrator (1) Equipment and Facilities (Mechanical, Electrical, Communication, Water Transmission Pipeline) Emergency Rescue Team Captain: Deputy Captain of the Department of Mobile Energy: Maintenance Workshop Manager: Mobile Energy Division, Maintenance The management function staff, material staff, custodian, safety officer, operation area management function personnel, team management personnel and team backbone of the workshop. The office is located in the Mobile Energy Division. Main responsibilities of equipment and facilities (mechanical, electrical, communication, water pipeline) rescue team 1. Responsible for the preparation of equipment, facilities (mechanical, electrical, communication, water pipeline) earthquake emergency response plan and measures implementation, according to the earthquake relief office Arrange and carefully organize the drills for the emergency rescue plan. 2. Do a good job in the professional and technical training of rescue personnel, ensure the supply of various materials for equipment and facilities, ensure the timely delivery of materials to the rescue site, and create conditions for earthquake relief and post-earthquake resumption. 3. After the earthquake damage occurs, it is responsible for organizing personnel rescue and emergency rescue work, and organizing the implementation of emergency repair of equipment and facilities. (2) Captain of a beneficiation, second ore dressing, three dressing, concentrate, tailings earthquake rescue team: Deputy head of the workshop manager: the person in charge of the production and equipment of the workshop: team management function personnel, safety officer, material staff, custody Members, operation area management functions and team management personnel and team backbone. The office is located in various workshops. Main Responsibilities of Earthquake Relief Teams of Production Workshops 1. According to different work divisions, they are responsible for the formulation and implementation of earthquake emergency rescue plans for the workshops, and are responsible for the calibration of earthquake shelters, routes and suspension safety passages in the jurisdiction, and according to earthquake relief. Arrange the office and carefully organize the drills for the emergency rescue plan. 2. After receiving the imminent earthquake forecast, organize personnel to start their own emergency rescue plans as soon as possible. 3. Immediately after the occurrence of the earthquake damage, the rescue and rescue work will be carried out, and the evacuation and ambulance of the personnel in the area will be organized and implemented as soon as possible. The personnel on the site will be evacuated to the safe suspension site in accordance with the calibrated suspension route and the safe passage of the suspension. 4. According to the "Notice on the Interim Provisions on the Rapid Report of Earthquake Disasters of Jinchuan Group Co., Ltd.", the disaster information will be quickly collected and the earthquake disaster report will be done. 5. According to the unified arrangement of the ore dressing plant, organize personnel to resume production equipment and facilities and create conditions for the resumption of production. Chapter IV Earthquake Disaster Prevention and Emergency Preparedness Article 16 All earthquake relief work teams and members of the earthquake relief team must be familiar with the earthquake emergency rescue plan and various emergency measures; the earthquake emergency rescue plan measures should be made public; the unit lighting and power Members of the earthquake relief team of switches and fire protection equipment should be proficient in familiarity with the position of water pipes and power supply switches, and clarify the responsibility for earthquake relief. The earthquake rescue plan of each earthquake rescue team (site emergency implementation plan) should correspond to the earthquake rescue plan of the plant, and the two complement each other. Article 17: Do a good job in earthquake prevention and rescue training. Through the annual training of prevention plans, improve the quality of actual combat and ensure that the earthquake can be properly adapted. Article 18 The person in charge of the unit shall guide the employees in the jurisdiction to be familiar with the safe passages and routes of the suspension. Each employee shall learn the first aid method and avoid the protection knowledge of secondary disasters (high-voltage lines, chlorine gas, acid liquid, tall buildings, etc.). When an earthquake disaster strikes, it is necessary to follow the principle of people-oriented, promptly command personnel to evacuate to the suspension site according to the safe passage and route of the suspension, the command system is quickly put into operation, and various rescue and rescue work are carried out in an orderly manner, thereby reducing the earthquake disaster losses to at the lowest limit. Article 19: Emergency Earthquake Preparation (1) After the release of the imminent earthquake forecast, the earthquake occurred before the earthquake. The main task of this period is: the earthquake is the command, the earthquake rescue system enters the state of earthquake preparation, and the leaders at all levels enter. Command post. (2) Strengthen anti-earthquake and disaster prevention propaganda, issue orders, regulations, notices, etc., check the duty status and communication communication, check the operation of equipment and water, electricity, steam and other energy systems, and check important positions and important materials of each workshop. Security measures. (3) Urging employees to prepare protective equipment such as masks, towels and clothing, and requiring employees to follow the unified command. (4) Organizing the production system equipment protective shutdown, lifting objects quickly landed. (5) Strengthening public security and public security in the factory, maintaining the stability of employees' lives, organizing refuge, evacuation and living supply. Maintain the safety of production facilities and control the implementation of important materials and archives. Article 20: Emergency and Refuge in Linfen Earthquake (1) After receiving the earthquake prediction, the earthquake relief work teams and teams of the concentrator shall start the respective earthquake emergency according to the unified arrangement of the seismic rescue site command of the concentrator or the earthquake relief office. The rescue plan will organize the evacuation and transfer of personnel according to the prescribed route and the venue. (2) At the time of evacuation and after evacuation, care should be taken to avoid the harm and protection of other secondary disasters (high-voltage lines, chlorine gas, acid liquid, tall buildings, etc.) (the relevant units must reserve the necessary emergency protective equipment for the on-the-job personnel in the personnel) Work or place that is relatively concentrated and conducive to pick and place; do fire and fire work. (3) Put the toxic and hazardous substances in the laboratory, the oxygen cylinders and acetylene bottles used in the production on the spot, according to the principle of who is responsible for the use, and put them into the designated position according to the safety regulations. (4) Organizing personnel to strengthen the monitoring and operation of the tailings dam body to ensure the safe operation of the tailings dam body and the disaster prevention of secondary disasters. Article 21 Emergency Rescue Work for Earthquakes (1) After the earthquake disaster occurs, the earthquake relief rescue command headquarters, earthquake relief work team and team staff of the concentrator shall immediately enter the work position, and the relevant personnel and rescue vehicles shall be in place within 30 minutes. . Immediately implement various emergency measures and immediately direct employees to actively carry out self-help and mutual rescue. Ascertain the earthquake as soon as possible, and get in touch with the higher level in time to ensure smooth information. (2) When attacked by a sudden earthquake, we must adhere to the principle of emergency rescue, put the safety of personnel in the first place, minimize the casualties caused by earthquake disasters, and actively carry out the operations on the production site. Ambulance. (3) All units shall, according to the earthquake emergency rescue plan, organize the evacuation of the production site personnel to the prescribed route and the specified location, and promptly evacuate to the suspension site according to the designated safe passage and route under the premise of ensuring their own safety. According to the rapid statistics of the number of evacuations on duty, the number of attendances is absolutely consistent with the number of evacuations, and is reported to the Earthquake Relief Office and the Earthquake Rescue Command. (4) The work of the earthquake relief teams will save people, immediately organize the rescue of the accused personnel and the rescue and resettlement work for the casualties, minimize the casualties caused by the earthquake disaster, prevent greater losses caused by strong aftershocks, and closely monitor and prevent A fire has occurred. (5) Before the deputy ore commander of the concentrator has not reached the post of the command, the factory-level duty officer is the temporary commander of the anti-seismic rescue site command of the concentrator and exercises the commanding power. The focus of work is on contingency and response. The principle is: "People-oriented, calm and responsive". In addition to the premise of the pre-plans, the personnel who must adhere to the post (responsible for organizing, directing, and coordinating) take local earthquake-stricken measures, stick to their posts, and perform their duties. All other personnel will be evacuated to a safe location according to their respective plans. (6) Quickly organize personnel, enable earthquake relief supplies to protect the tailings dam body, and make every effort to ensure the operation of the tailings dam body and the secondary disaster of the tailings reservoir. (7) Personnel who must adhere to their posts, members of the Earthquake Relief Field Command of the Mineral Concentrator, members of the Earthquake Relief Office, the staff of the Earthquake Relief Office, the earthquake relief teams and the Earthquake Relief Team are responsible for organizing, directing and coordinating personnel and earthquake relief vehicles. Article 22: Disaster relief work 10 days after the earthquake occurred for the emergency rescue and disaster relief period. The main tasks of this period are: organizing a capable professional team for disaster relief, carrying out rescue of factory buildings and industrial facilities, and housing and industrial damage to earthquakes. The facility conducts a census appraisal and proposes treatment comments. Check the damage of the equipment, organize a professional team to carry out repairs, get through the process as soon as possible, and resume production. Chapter V Safe Earthquake Site and Emergency Rescue Communication Contact Article 23 All kinds of personnel at the production site of the concentrator shall evacuate to the suspension site as soon as possible during the earthquake, according to the safe passage and route of the suspension, and the suspension site of the concentrator The following is as follows: Jinchuan Group Co., Ltd. Concentrator Safe Earthquake Site Planning Table Location Site Type Site Name Capacity Remarks A beneficiation and crushing land arranging room next to the ground 100 people grinding and floating cement ground basketball court 300 people two ore crushing cement ground small road 200 people grinding and floating cement, east and west roads, 600 people, concentrate ore, raw material field, 300 people, three ore, crushing, cement, small road, 200 people, grinding and floating cement, grounding, floating road, 200 people, concentrate, land, factory, open space, 800 people, tailings, land, factory, open space, 800 people. Maintenance of cement floor building in front of open space 500 people quality inspection cement floor building front space 400 people organs cement floor building front space 600 people Article 24 Conducting the demineralization earthquake emergency plan for the ore dressing or responding to the earthquake emergency rescue, according to the concentrator Contact the earthquake emergency rescue communication. The details are as follows: Jinchuan Group Co., Ltd. concentrator earthquake emergency rescue contact telephone number list serial number unit name agency name telephone number 1 Jinchang City Earthquake Command Department Jinchang Municipal Government Office Secretary Section 8238764 8329910 2 Jinchang City Earthquake Working Group Office 8213306 Earthquake Testing Center 8213007 3 Director of the Office of Earthquake Rescue Command of the Group Corporation 8811775 Office 8811595, 8827221 4 Group Fire Fighting Team Duty Room: 119 (88 Bureau Telephone Direct Dialing 119) 8811119, 8812119, 8825119, 8827119 5 Group Hospital Emergency Center 8812948, 8211120 6 Mineral Processing Plant Earthquake Rescue On-site command command 8812472, 8811590 Deputy command 8812396 8828815 8812640 7 Director of the Office of Earthquake Relief Office of the Mineral Processing Plant 8811522 Deputy Director of the Office 8811537, 8826659 Office 8825764, 8812763 8 Earthquake Relief Working Group of Earthquake Reconstruction Earthquake Relief Coordination Group 8812396, 8811522 Anti-earthquake rescue propaganda, Security, Disaster Rescue Group 8811053, 8812603 8825503 Rescue medical, health, logistics support, on-site ambulance, aftercare group 8811053, 8812603 8825503, 8825239 Earthquake rescue information Cloth group 8811520, 8825520 Anti-seismic rescue expert technology, accident investigation (coordination) group 8811537, 8811807, 8811520, 8811053 9 concentrating plant earthquake relief team equipment, facilities, water pipeline power, communications rescue, material supply team 8888881, 8820755 8811807, 8827319 Anti-seismic rescue team of a mineral processing workshop 8824541 Second earthquake-resistant rescue team of the mineral processing workshop 8812154 Three-separation workshop earthquake-resistant rescue team 8828308 Earthquake workshop earthquake relief team 8825720 Earthquake rescue team of the tailings workshop 8827780 Chapter 6 Earthquake disaster report Article 25 Seismic rescue of the ore dressing plant Immediately after receiving the early warning report of the group company, the office immediately reported to the seismic rescue site commander and relevant departments of the mineral processing plant, and notified the relevant units to start the emergency rescue procedure and form a graded response system. Article 26 After an earthquake disaster, all units immediately start the emergency rescue plan of the unit, organize unit rescue equipment and strength, fully carry out self-rescue, prevent the spread of disasters, and report the disaster situation to the earthquake rescue headquarters and office. Article 27 All units shall report the earthquake disaster information to the Earthquake Rescue Site Command and the Earthquake Relief Office on time according to the requirements of the "Notice on the Interim Provisions on the Rapid Report of the Earthquake Disaster of the Concentrator of Jinchuan Group Co., Ltd.". If the written report is too late to form a written material, it may be verbally reported by the person in charge or the earthquake disaster reporter. The report includes: (1) Measures taken after the earthquake disaster and accident control. (2) Casualties caused by earthquake disasters (including the number of people whose whereabouts are unknown). (3) Briefly describe the damage to buildings and industrial facilities and equipment. (4) Briefly describe the situation of communication, water supply, power supply, heat supply and transportation. (5) Other circumstances (6) Reporting unit, rapporteur, reporting time and contact information. Article 28 After receiving the report, the Anti-Seismic Rescue Office of the Concentrator will immediately summarize the information reported by the emergency rescue teams, make a brief report to the leaders of the seismic rescue site command of the concentrator, and report to the earthquake rescue headquarters of the group company in time. It is required to form a written report record (the report content is the same as above) and implement further instructions from the Group's Earthquake Rescue Command. Article 29 In the event of an emergency and loss of contact with the Earthquake Rescue Field Command and Office, you may contact the nearest earthquake rescue headquarters or office to request assistance in controlling the development of the situation. Chapter VII Emergency Response Procedures for Earthquake Disasters Article 30 Emergency Early Warning (I) Earthquake Disaster Emergency Warning: The Earthquake Rescue Command of the Group Company issued an early warning alarm. The seismic rescue site commander of the concentrator and the earthquake relief office received the company's earthquake relief. Immediately after the warnings issued by the headquarters, they will send early warning alerts to all units and departments. (2) After the earthquake disaster warning and warning is issued, the anti-seismic rescue site headquarters and office of the mineral processing plant and related units and departments must be on duty 24 hours a day. All units shall, according to the division of responsibilities, do a good job in the prevention of key parts and key links, and provide real-time earthquake relief. The on-site command or office reports on the latest developments and disposals. (3) When it is attacked by a sudden earthquake, the emergency rescue work for the earthquake shall be immediately launched in accordance with Article 22. Article 31: When the early warning is lifted, when the earthquake disaster is proved to be impossible, the earthquake rescue headquarters of the group company issued an early warning warning. The earthquake relief office of the concentrator immediately sent the warning and termination warning period to all units and departments. And inform the relevant units, departments and relevant personnel to lift the corresponding response measures, and gradually resume normal production. Article 32: Pre-opening of the plan, grading response 1. In the event of an earthquake disaster, all units must immediately start the relevant emergency rescue plan, organize the unit's rescue force to fully rescue the situation first, and report the situation to the seismic rescue site command or office of the concentrator. Reach the concentrator response. The anti-seismic rescue site command and office of the concentrator immediately reported to the company's earthquake rescue headquarters to meet the company's response. 2. After the catastrophic emergency plan of the concentrator is started, all units and departments must follow the rescue operation of the concentrator and the rescue leader of the earthquake rescue headquarters of the group company. Article 33 Basic Response Procedures (1) When it is confirmed that an earthquake disaster is about to occur or has occurred, all units of the mineral processing plant will immediately start their respective emergency rescue plans, implement specific rescue and emergency disposal actions, control the development of the situation, and the earthquake resistance of the concentrator. The rescue site command and office responded immediately to assist the units in implementing rescue and emergency response. (2) In the event of a severe earthquake, all units of the concentrator shall immediately contact the earthquake rescue headquarters and the office to determine the contact person and communication method, and implement the emergency rescue operation in accordance with the requirements of "unified command, unit-based, professional disposal". . The anti-seismic rescue site command and office of the ore dressing factory got in touch with the earthquake rescue headquarters of the group company, and requested coordination with the emergency rescue team of the company's firefighting and staff hospitals. (3) All units of the mineral processing plant shall maintain the rescue order and the evacuation and resettlement of the personnel in the area, and do their utmost to prevent further expansion of the situation. The earthquake relief rescue headquarters and office shall organize the earthquake rescue working group as soon as possible to carry out professional emergency rescue work. (4) After the earthquake rescue working group rushed to the scene, under the unified command of the on-site command, in accordance with the emergency rescue plan division and the units cooperated and cooperated closely to jointly implement the emergency rescue measures for the earthquake disaster of the concentrator. (5) The earthquake rescue center command and office of the ore dressing plant shall continuously report the progress of the rescue work to the earthquake rescue headquarters of the group company, and adjust the emergency disposal measures according to the guidance and instructions of the company's earthquake rescue headquarters. Article 34: Expansion of Emergency (1) After the start of the devastating earthquake emergency plan of the concentrator, the situation continues to expand, beyond the scope of the concentrator's control capability, and needs assistance and support from the group company or province, and the blasting station's earthquake rescue site command And the office immediately submitted a request for assistance and support to the Group's Earthquake Rescue Command. Coordinated by the earthquake relief headquarters of the group company, the emergency rescue resources were mobilized to participate in the rescue and disposal of the earthquake disaster of the concentrator. (2) When the tailings dam collapses and the tailings leakage causes environmental pollution to the surrounding area, the seismic rescue office of the concentrator immediately reports to the earthquake rescue headquarters of the group company, and the earthquake relief headquarters of the group company issues prevention to the surrounding areas. alarm. Article 35 After the emergency end of the earthquake disaster is controlled, according to the news media to release the news of the termination of the emergency rescue operation to the public and the notice of the emergency rescue of the group company's earthquake relief headquarters, the concentrator's earthquake relief office immediately ordered the disbandment of the emergency rescue team. Rescue the emergency rescue headquarters and end the emergency rescue and disposal work. Article 36: Restoration and Reconstruction (1) After the end of the emergency rescue operation, the group company shall uniformly lead and coordinate post-disaster recovery and reconstruction work, and all units and departments of the concentrating plant shall organize their forces to resume communication, water supply, drainage, and power supply as soon as possible. Provide infrastructure and equipment such as gas supply, restore normal production order, and maintain social stability and stability. (2) All units and departments of the mineral processing plant shall do the relevant after-treatment work, including personnel resettlement, continued medical treatment of injured personnel, disease control, pollutant collection, on-site cleaning and treatment, compensation, and provision of daily necessities. (3) The mineral processing plant shall promptly set up an earthquake disaster investigation team to summarize and evaluate the whole process of the earthquake recovery and emergency response of the concentrator and the damage caused by the earthquake disaster, sum up the experience and improve the emergency plan in time, and submit emergency rescue to the group if necessary. summary report. (4) According to the summary report, formulate a plan for restoration and reconstruction, and submit funds, material support (support) and technical guidance requests to the company. (5) According to the summary report, timely submit an application request to the insurance company for economic compensation. (6) According to the summary report, formulate plans for the aftermath of relief, soothing, pension, resettlement, etc. and organize implementation. Chapter VIII Management of Destructive Earthquake Emergency Plan Article 37 Management of Earthquake Emergency Plan of Concentrators (I) Preparation of Earthquake Emergency Plan for Concentrators 1. Formulation of "Destructive Earthquake Emergency Plan for Jinchuan Group Co., Ltd. Concentrator", Production Plan The department is responsible for formulating and revising the special emergency plan for the devastating earthquake emergency plan of the concentrator according to the relevant requirements of the Jinchuan Group Co., Ltd. catalyzer disaster emergency rescue sub-project and the damaging earthquake emergency plan of Jinchuan Group Co., Ltd. The group and the earthquake relief team are responsible for formulating and revising the implementation plan for the on-site emergency rescue of the concentrator. 2.选矿åŽ'å"抗震æ•'援工作ç»"å'ŒæŠ—震æ•'援队在制定å"自具ä½"åº"急æ•'援é¢"案过程中,要按照《é‡'川集团有限公司选矿åŽ'ç ´åæ€§åœ°éœ‡åº"急æ•'援é¢"案》中具ä½"çš"要æ±'å'Œå·¥ä½œèŒè´£ï¼Œç»"合å"自çš"ç"Ÿäº§ã€å·¥è‰ºç‰¹ç'¹è¿›è¡Œç¼–制,做到ç§'学合理、全面具ä½"、切实可行ã€' (二)选矿åŽ'地震åº"急é¢"案管理选矿åŽ'ç ´åæ€§åœ°éœ‡åº"急æ•'援é¢"案çš"管理,实行ç"±ç"Ÿäº§è®¡åˆ'ç§'负责主管,安全环保ç§'配合协管,安全ç"Ÿäº§å§"å'˜ä¼šè´Ÿè´£å®¡æŸ¥ã€ç£æŸ¥çš"管理ä½"制ã€'第三十七条选矿åŽ'地震åº"急é¢"案çš"审查(一)《é‡'川集团有限公司选矿åŽ'ç ´åæ€§åœ°éœ‡åº"急é¢"案》çš"ä¸"项åº"急é¢"案ç"±é€‰çŸ¿åŽ'安全ç"Ÿäº§å§"å'˜ä¼šå®¡æŸ¥ï¼ŒæŠ¥é›†å›¢å…¬å¸æŠ—震æ•'援指挥部å'Œé›†å›¢å…¬å¸å®‰å…¨ç"Ÿäº§å§"å'˜ä¼šåŠžå…¬å®¤å¤‡æ¡ˆã€' (二)《é‡'川集团有限公司选矿åŽ'ç ´åæ€§åœ°éœ‡åº"急é¢"案》çš"现场åº"急æ•'援实施é¢"案ç"±é€‰çŸ¿åŽ'抗震æ•'援办公室审查,报选矿åŽ'安全ç"Ÿäº§å§"å'˜ä¼šåŠžå…¬å®¤è¿›è¡Œå¤‡æ¡ˆã€'第三十八条选矿åŽ'ç ´åæ€§åœ°éœ‡åº"急é¢"案çš"修订随着相关法律法è§"çš"制定、修æ"¹å'Œå®Œå–",机æž"调整或åº"急èµ"源å'ç"Ÿå˜åŒ–,以及åº"急é¢"案æ¼"练中å'现çš"问题å'Œå‡ºçŽ°çš"新情况,《é‡'川集团有限公司选矿åŽ'ç ´åæ€§åœ°éœ‡åº"急é¢"案》çš"修订,每3年进行一次修订ã€'第三十九条选矿åŽ'ç ´åæ€§åœ°éœ‡åº"急é¢"案çš"培训与æ¼"练(一)要充分利ç"¨çŽ°æœ‰çš"设施å'Œå®£ä¼ 材料有计åˆ'地ç»"织职工进行åº"急é¢"防、æ•'援、避险、自æ•'、äº'æ•'ç­‰å¸¸è¯†åŸ¹è®­ï¼Œè®¤çœŸå­¦ä¹ åº"急æ•'援é¢"案,将地震灾害预防、应急指挥、有效沟通与响应、配合协调等作为重要内容,增强职工应对突发地震灾害的知识和应急能力。 (二)选矿åŽ'å"è½¦é—´æ ¹æ®æŠ—éœ‡æ•'援办公室çš"工作计åˆ',ç»"织实施现场åº"急æ•'援é¢"案æ¼"练或训练,使å"åº"急队伍、机æž"、人å'˜æ˜Žç¡®å²—位与职责,增强配合协调能力,提高整ä½"åº"急反åº"能力,并通过æ¼"练检验åº"急æ•'援é¢"案,å'现问题,及时总ç»"、修订、完å–"选矿åŽ'ç ´åæ€§åœ°éœ‡é¢"防æ•'援é¢"案ã€' (三)选矿åŽ'ç ´åæ€§åœ°éœ‡åº"急é¢"案æ¼"练工作,ç"±é€‰çŸ¿åŽ'抗震æ•'援办公室ç»"合选矿åŽ'å½"å¹´ç"Ÿäº§å®žé™…情况做出æ¼"练工作计åˆ'安æŽ'ã€'é¢"案æ¼"练原则上每年进行一次,若受条件限制不能实施ä¸"项é¢"案çš"æ¼"练,可ç»"织现场åº"急æ•'援实施é¢"案çš"æ¼"练工作ã€' (四)选矿åŽ'ç ´åæ€§åœ°éœ‡åº"急é¢"案æ¼"练检验çš"内容: 1.地震灾害预防期间通讯系统是否能正常运作。 2.现场人员是否能按安全撤离路线、通道撤离到安全避震场地。 3.应急救援机构能否及时参与震灾的抢险救援。 4.有关抢险救援设备、物资能否到位。 5.å"åº"急æ•'援工作ç»"或抗震æ•'援队执行任务çš"能力å'Œç›¸äº'é—´çš"协调能力,能否充分有效地调配åº"急æ•'援力量ã€'第四十条选矿åŽ'å"单位、部门åº"æ ¹æ®åº"急æ•'援é¢"案çš"å…·ä½"要æ±',定期检查åº"急人å'˜ã€è®¾æ–½ã€è£…备等èµ"源çš"落实情况,并制定相åº"çš"奖惩制度ã€'ç¬¬ä¹ç« é™"则第四十一条选矿åŽ'ç ´åæ€§åœ°éœ‡åº"急æ•'援工作实行责任追究制ã€' In accordance with the relevant provisions of the "Conservation Plant Disaster Accident Emergency Relief Division".第四十二条本é¢"案ç"±é€‰çŸ¿åŽ'ç"Ÿäº§è®¡åˆ'ç§'负责解释ã€'第四十三条本é¢"案自颁布之日起施行ã€'原《é‡'川集团有限公司选矿åŽ'ç ´æ¡ˆï¼ˆä¿®è®¢ï¼‰ã€‹åŒæ—¶åºŸæ­¢ã€'
Travelling Tower Crane's tower body is fixed on the walking base frame, which can run on the special track with good stability, can carry load, and high work efficiency, so it is widely used in construction and installation engineering.
Rail type tower crane can run along the track, working range is large, widely used, suitable for multi-storey building construction.
Main Types of Travelling Tower Crane: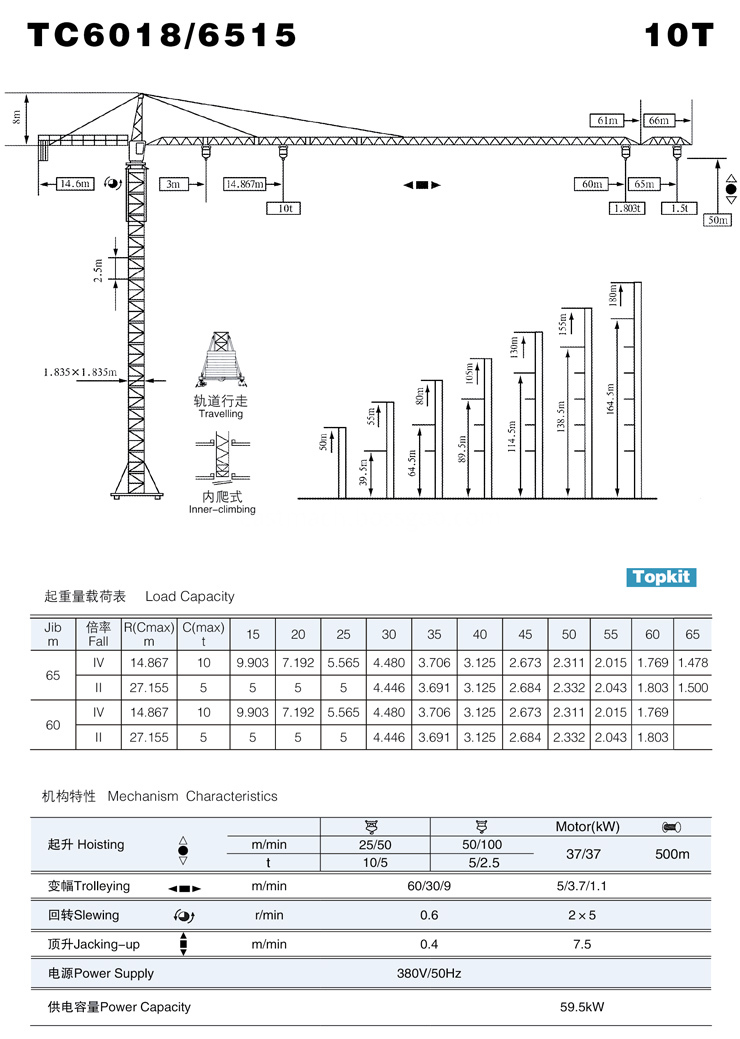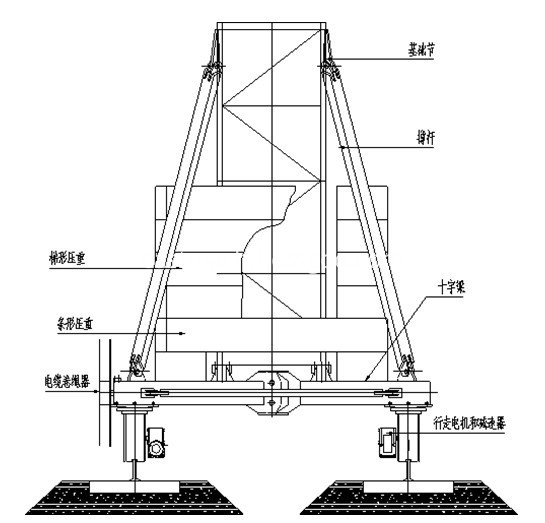 Application Area:
Because the Travelling Tower Crane is equipped with walking devices, it is flexible and widely used in the construction site of road bridge with high mobility for lifting and installation.
If you have any questions, please contact with us directly. Travelling Tower Crane are produced with High Quality and Good Appearance. Welcome you can visit our Factory. For inqury, Please send mail directly to us.
Travelling Tower Crane
Mobile Tower Crane,Travelling Topkit Tower Crane,Self Erecting Traveling Tower Crane,Topless Travelling Tower Crane
Jinan East Machinery Co.,Ltd. , https://www.jneastmach.com